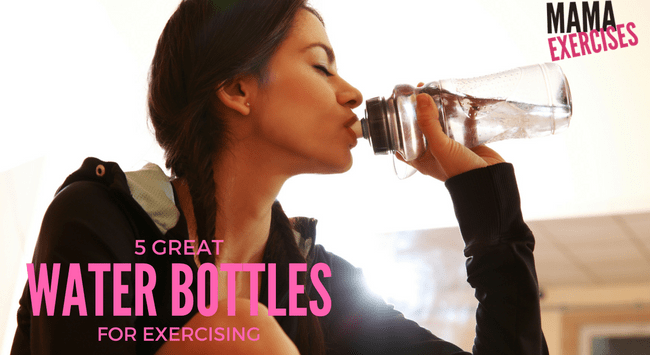 Before you head out the door for the gym or turn the DVD player on for your workout, make sure you have your water bottle with you.  Yes, most gyms have fountains in case you forget yours, but taking your own water bottle is not only easier, it's also much more likely to result in you staying hydrated.  As I've mentioned before, dehydration is serious and, when you're doing an intense workout, you lose fluids even faster.  If you're looking for some new water bottle suggestions, or if you're just getting started and are not sure which water bottle to get, here are five of my favorites.
Water Bottles for Exercising
I love, love, LOVE this water bottle and if I could only have one water bottle for the rest of my life, this is the one I would have.  It has the neatest sealing closure, so that when you remove the straw, the lid closes up tight.  I carry the straw separately and then just pop it in once I'm on the elliptical or treadmill.  For me, drinking from a straw mid-exercise is a whole heck of a lot easier than trying to tip the bottle back and not fall off the machine.  So, this is my go-to, must-have, everyday-use water bottle.
Contigo water bottles and I are BFFs and I really haven't met one that I don't like.  (This article is in no way sponsored or endorsed by Contigo, I just really, truly love their water bottles.).  This nifty one has a spout that pops up and you drink from it like you would from a straw.  Again, straws just make my life easier.
If citron isn't your color, not to worry, this one comes in a variety of colors and sizes – and prices, so be sure to look at all of the options!  One of the things that drew me to this stainless steel water bottle was the fact that it's insulated.  When I'm outside walking or playing with the kids in the summertime, I want a water bottle that's going to keep my water cold.  This one does just that without any funny stainless steel taste – which is a super plus!
Sometimes, you just want an easy water bottle to hold on to. Enter the MIRA. I have relatively small hands so they get easily fatigued if I have to continually carry around wide water bottles.  This one is perfect for those times when I'm going for a long walk, because it keeps the water cold, but doesn't cramp my hands from carrying it.  It's the best of both worlds, plus, how pretty is that?!?
I know a lot of people don't like to drink plain water, so a bit of fruit infusion can make all the difference when it comes to staying hydrated.  These bottles are sturdy and durable – which can't be said of a lot of infuser bottles! If you're the kind to like a bit of natural fruit flavor in with your water, try out these awesome bottles to help you get that.  They work great!
While it's not a requirement that you get any of these – a cup works fine too! – I can attest to the fact that having designated water bottles helps me get and stay hydrated.  When I don't have one on hand, I tend to get a wee bit grouchy, because I'm used to drinking a lot of water.  If you find that you're having trouble reaching your daily recommended water intake, just try keeping a water bottle within reach.  I think you'll find it makes quite a difference.  Just remember to clean your water bottle thoroughly with a soft, spongy, long-handled brush, because most are not dishwasher recommended. It's worth the 3 minutes it takes to clean them though – I promise!