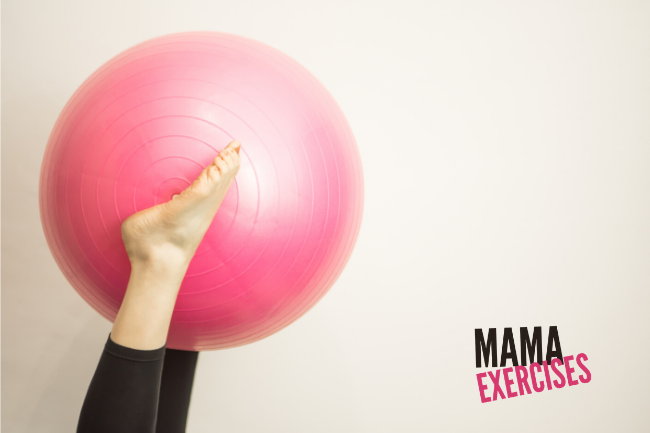 Studio apartment? 3′ x 5′ spot in the living room between the bookshelf and the toy chest? If you're hesitating to start working out, because your workout space is tiny, have no fear – workouts can take place in small spaces. Figuring out how to exercise in a small space is as simple as LMNOP!
How to Exercise in a Small Space
Limited Movement Exercises
When I say limited movement exercise, I'm specifically talking about exercises that don't require a lot of space. Skater jumps, for instance, would probably be tricky to execute properly if you only had a small spot with which to work.
Choose exercises that engage multiple body parts, but that don't need a large area. Most resistance exercises would fall in this category, as would jogging in place, high knees, and squats.
Be creative with the exercises you select. And, if you're not sure which exercises to select, contact me about personal training services either virtually or in-person.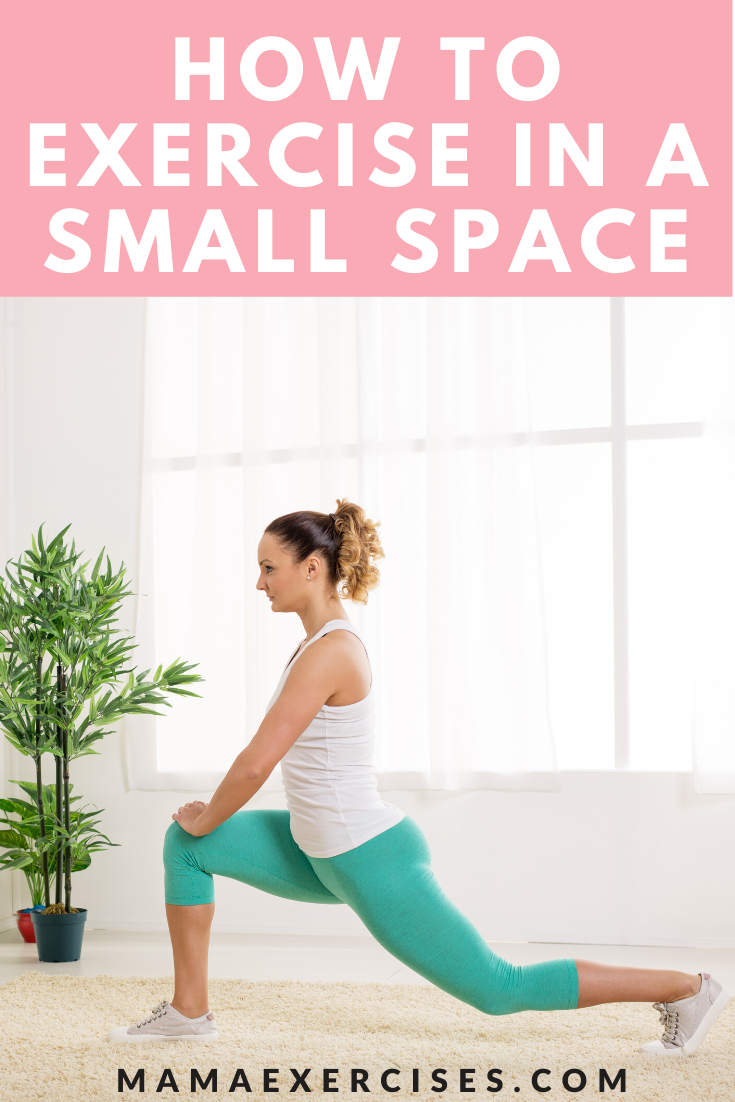 Affiliate links below. If you purchase from a link, I may receive a small commission. Thanks!
Minimal Equipment
Contrary to what many people believe, you can get a great workout in without a lot of equipment. For working in a small space without a lot of storage, I would recommend getting, at minimum, a comfy [easyazon_link identifier="B00E8AJDFQ" locale="US" tag="mamaexercises-20″]yoga mat[/easyazon_link] and a [easyazon_link identifier="B010FEY7SG" locale="US" tag="mamaexercises-20″]resistance band[/easyazon_link].
There are a lot of body weight and resistance band workouts that can help tone and tighten your body without the need for expensive equipment. If you have a bit more space to slide some things under the sofa or hide away in the closet, a set of light and heavy (for you) [easyazon_link identifier="B00R3MZITG" locale="US" tag="mamaexercises-20″]dumbbells[/easyazon_link] and a [easyazon_link identifier="B00MTX0TD4″ locale="US" tag="mamaexercises-20″]stability ball[/easyazon_link] would really up your exercise routine game. It's hard to hide a stability ball in a small space though!
No Excuses
The most important thing about exercising in a small space is your attitude. No excuses. You can work out in a small space. Stop making excuses about not having a lot of room, and just get that workout done.
Outdoors
Tired of being cooped up in your small space? Head outdoors and bring your workout with you!
Take advantage of the space in a park or along a trail and get in those lateral lunges and skater jumps.
If you're at the park with your child, race him with sprints, do chin ups on the monkey bars, or lunges around the playground perimeter while your child plays.
Go for a walk, jog along the river, hike in the woods, swim laps at a local pool; there's no end to the exercises and activities you can do outside. Don't forget to bring your [easyazon_link identifier="B00JLDYRVU" locale="US" tag="mamaexercises-20″]water bottle[/easyazon_link]!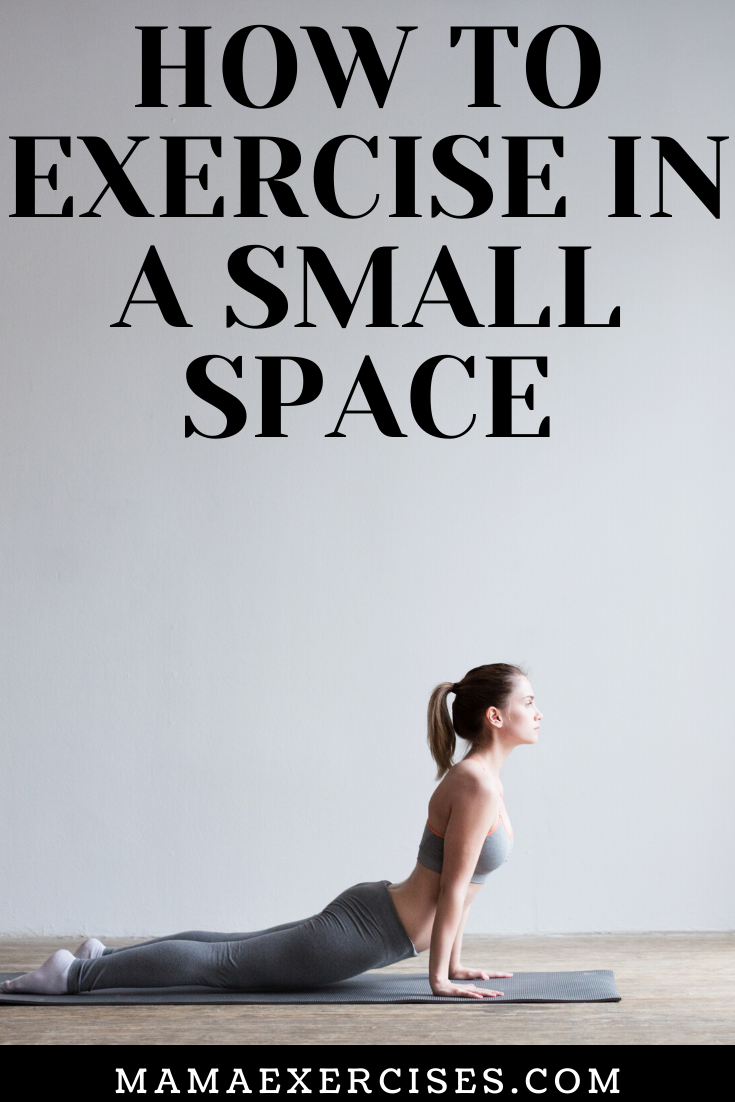 Prepare
When you're in a small space, preparation is key. Move what you can out of the way so that you don't knock things off a shelf or table. Be aware of your space limitations so that you can safely execute your routine. Make sure that there are no tripping hazards or dangers in your direct path – check behind you, as well! Above all prepare to get a fantastic workout using the space and equipment that you have.
As someone who works out in a basement with a 6′ ceiling most days, I understand the limitations of a small (and short!) space. The key is to limit movements when space is unavailable, have minimal equipment on hand that needs to be stored, make no excuses about the small space, head outdoors as much as possible, and prepare and plan ahead. You can do it! Now, go kill that workout!
Save