Stay active with these exercise hacks while traveling!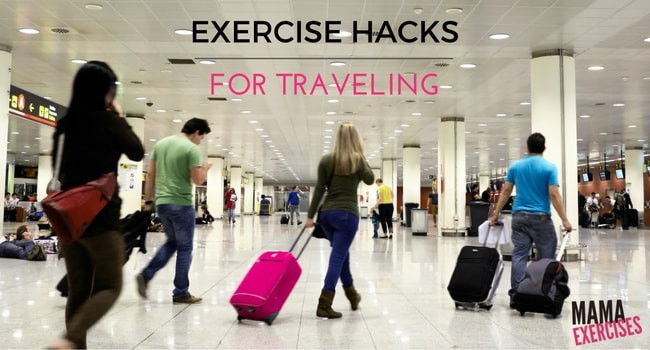 I always forget how much traveling and flying makes me want to exercise. Maybe it's because I'm trapped in the small economy seats with leg room that wouldn't even accommodate my seven year old daughter.
Maybe in First Class the desire to run laps in the terminal and break into stretching yoga poses wouldn't be so strong. However, since First Class is a long way off from happening, I thought I'd share some of my tips for sneaking in some exercise and stretching while you're at the airport. They're quick and easy, but your muscles will thank you.
Stretches and Exercises for the Airport
The Power of the Pedometer
Strap on your pedometer and start counting steps. You'll find yourself taking the long way to your gate or not minding that the line for the coffee shop stretches down the terminal. Extra steps for you, my friend! While flying involves an awful lot of sitting, I challenge myself to get my daily step goal in while I'm in the airport. Sitting for hours on the plane doesn't seem quite so intolerable then!
As an aside, if you're looking for a pedometer, I love my Fitbit. I know a lot of people prefer the fancier and more expensive pedometers, but for me, the Zip is perfectly compact and, if it breaks or I lose it, I don't feel like I need to cry for days. So, when I fly, my Zip is a my faithful companion. That being said, be sure to take it off and definitely don't clip it on your bra before going through security…been there, done that.
Skip the People Movers
Unless you're traveling with people who don't have a pep in their step, skip the people movers and just walk. You'll get in more steps and it's a great way to stretch your legs.
Calf Raises on the Sly
Calf raises are great to sneak in while you're waiting for your flight to board, while standing in line at the coffee shop, or while checking the departures board. Not so much in the security line though, so skip them there.
Shoes Matter
Sometimes you have to wear fancy shmancy shoes while traveling, but if you have the option, slip on a pair of comfortable shoes that you don't mind walking in while you're traveling. I love Sketchers slip-ons for just this reason, but even I sometimes have to wear flats. The more comfortable your shoes, the easier it will be to walk quickly (try walking sprints between gates).
Back Stretches
I don't know about you, but when I'm traveling I hold all of the stress and tension in my shoulders and back. Practice rounding and flattening your back while your forearms are resting on your thighs as you're sitting in the boarding area. A few stretches and you'll be feeling a whole lot better.
Perhaps the best exercise advice for traveling, is to make use of your hotel's gym when you get where you're going. Hop on the treadmill for a jog, get in a great elliptical workout, or lift some weights. Be sure to stretch out those sore, cramped muscles before you do though. You'll feel a lot better and ready for round two of traveling as you head back home.
What are your favorite airport exercising hacks while traveling? Happy travels, friends!