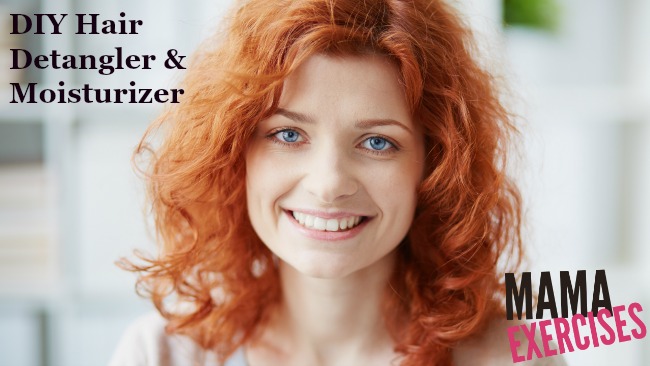 I have naturally curly hair…which translates frequently into "big, frizzy poof head." I've tried more creams and expensive oils and leave in conditioners than I could even count. Since working out almost daily, my hair can get super dry from all of the washing. And trust me, after a T-25 workout, you want me washing my hair.
Awhile ago, I had made a "healthy hair spray" for my daughter using essential oils that not only helped detangle her locks, but also made her noggin much less attractive to creepy crawlies (I refuse to even say the "L" word!). One day, frustrated with my own dry mass of curls, I decided to try it out for myself. Lo and behold, it was wonderful! So, if you're hair is getting a bit brittle thanks to the need for frequent washings, you might want to give this combination a try.
DIY Hair Detangler and Moisturizer
Now, we use Young Living Essential Oils, because of their purity and the lack of added fillers. Their Seed to Seal Promise is important, because not all essential oils are created equal.
As a total aside, did you know that some companies package leftover floral water (the water that's left in the bucket after putting flowers in them) and sell that as essential oils?! No joke. If you're going to use essential oils, you have to know where they come from (in our case, Young Living's farms) or you're putting your family at risk.
We've used Young Living Essential Oils daily for over three years now, and I honestly can say that they have been a huge blessing for our family. If you'd like to know more about essential oils or Young Living, please contact me and I'll be happy to share what I know.
Anyway, this mixture leaves my hair softer, smoother, and waaaaaay less frizzy. I'll admit that I am not a big fan of the Tea Tree smell, but I do like the things that oil does, so I suck it up.
DIY Hair Detangler with Essential Oils Recipe
You'll Need:
1 spray bottle
Filtered water
20 drops of Young Living Lavender Essential Oil
20 drops of Young Living Rosemary Essential Oil
20 drops of Young Living Melaleuca alternifolia Essential Oil (Tea Tree)
How to Make It:
Fill the spray bottle about 1/3 of the way with filtered water.
Add the drops of essential oils.
Fill the spray bottle about another 1/3 of the way with filtered water.
Screw the top on and make sure the spray nozzle is closed.
Shake it up, baby!
Directions for Use:
Spritz it on damp hair and enjoy the benefits of less frizz and more moisture! This DIY Hair Detangler is our absolute, must-have go-to!
So, forget over-dry hair and embrace your new, beautiful locks! Oh, and if you have exercise hair like I do at the end of my workouts, rock on, sister!
Save the recipe for later by pinning the picture below!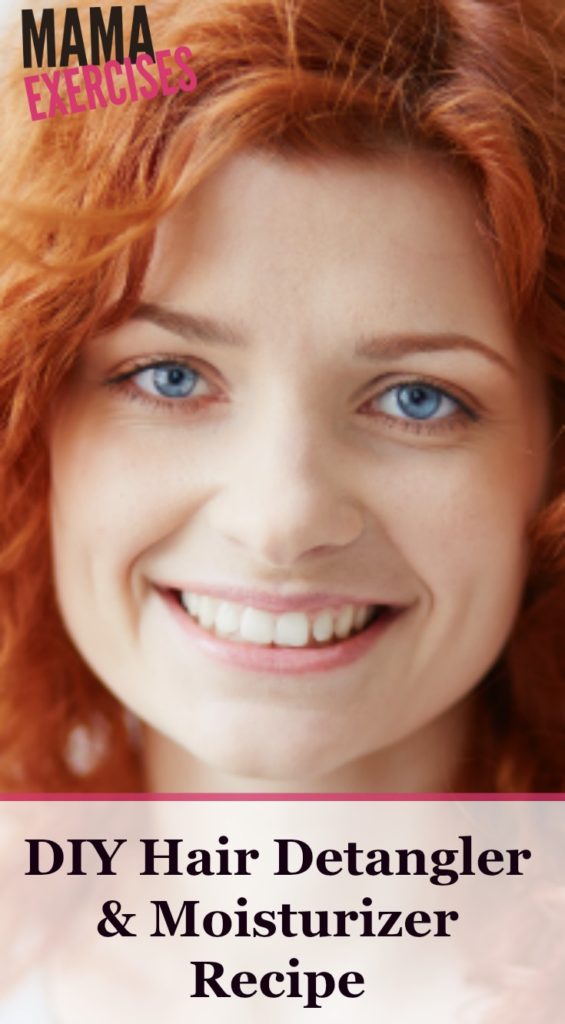 Save