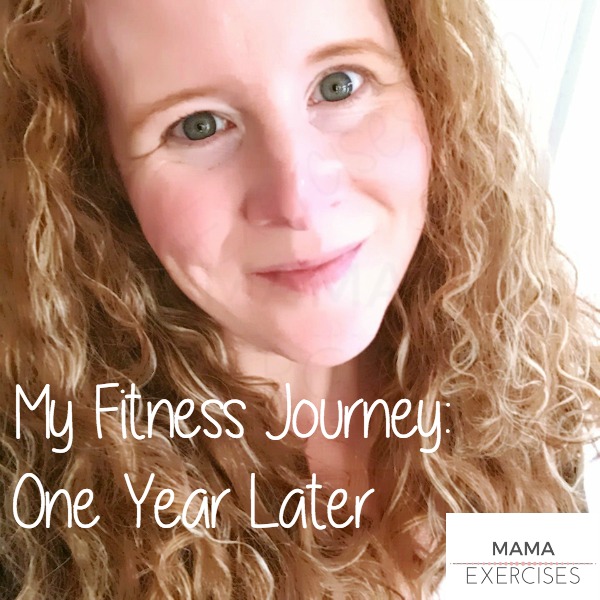 It hardly seems possible, but it's been exactly one year since I snapped my first "before" picture and started on a fitness journey that's had a huge impact on my life. April 28th, 2015, a day that shall live in infamy…or at least serve as a landmark for what I never want to go back to. Was it so bad back then? Of course not, but it also wasn't anywhere near as good as it is now. Let's take a look at how things have changed, shall we?
One Year Later: My Fitness Journey
I was coming off of a late January/early February vacation to the Caribbean and while I had a wonderful time visiting with family, I hated every single picture I was in. I didn't see a healthy, happy woman in those pictures. I saw someone who was truly overweight, who was exhausted both mentally and physically, and who was struggling with a lot of knee pain. I saw my reality in those pictures and I hated it.
After two knee surgeries, I had anticipated that by last year my knees would have been great. They were for a little while after my second surgery, because I had started exercising at the gym…for about 12 weeks. But then, things happen as they always do, and I let them sidetrack me from exercising. So, by April 2015, the weight that I'd lost had come back…along with about 25 more pounds. I was heavier than I'd been before I delivered my third child and I was miserable. My poor knees couldn't take the weight and were protesting something fierce.
I'd quietly been following a lovely woman named Lesley on Facebook and she talked quite a bit about a program that was 30 minutes long, 7 days a week, for 21 days. I decided to give it a try, because, really, how hard could something that was only 30 minutes be?! Then I learned.
But you know what? I stuck with it. I stuck with it despite my knees being sore. I stuck with it despite being tired from waking up early to get my workout in. I stuck with it because I was tired of being tired. I stuck with it, because I just wanted to feel better and be able to move without hurting.
I. Stuck. With. It.
Despite having less than perfect nutrition days and eating funnel cake when we went to the shore, I saw changes. Big changes. My body shape was changing, yes, but those knees? They started hurting less. I could walk up and down flights of stairs and not need ibuprofen at the end. I could walk the boardwalk in Ocean City, NJ while on vacation and be okay. And that made it even easier to stick with it.
I won't lie and say that I've dropped a gazillion pounds since I started. It's about 30 and I still have my eye on losing another 30 to be at my "ideal" weight. But, you know what? I don't even care what that scale says most days, because I have strong legs and muscles in my arms and definition in my shoulders, and my stomach is so much more defined. And my knees rarely hurt.
I've also been happier in this last year than I have been for a very long time. Facing the day is so much easier with a good workout under my belt. I have more patience, more energy, more focus, and more fun. It's like Elle Woods said in Legally Blonde, "Exercise produces endorphins. Endorphins make people happy." It does and they do.
In fact, exercise has become such a huge part of who I am and what I need in my life that in October, I decided to get my Personal Trainer Certification through the National Academy of Sports Medicine (NASM). On March 24th, I sat for my exam and passed. I don't think I've studied so hard and so much for any certification I've ever held, but this one means so much. Since then, I've gotten my Youth Exercise Specialist Certification and have been doing some intensive training in women's fitness.
My life has changed so much, because I made the decision to start exercising. I know it sounds hokey…if I wasn't living it, I'd roll my eyes too. But, wow, I am so thankful and feel so blessed that I had people in my life who pushed me, but who also gave me room to push myself.
I just needed to know how to start.
When I tell people about my journey, I often hear things like, "Well, I don't have the time to exercise" or "I just don't know what to do" or "I need guidance, but I can't afford it." I get it. But, friends, here's the thing…you have to want it.
I can't make you want to get healthier, but if you truly do want to, but just don't know where to start, I can offer you a chance to get that guidance. In celebration of my one year fit-versary (yes, I just made up a word), I'm going to be selecting 3 people to bless with 30 days of personal training.
What does 30 days of personal training entail?
Well, here's what I'd like to bless you with (over $300 value):
4 30-minute two-way video conference calls with me where we'll go over exercises and routines designed specifically for you;
Daily personal check-ins;
Support, ideas, and recipes to help get your nutrition on track;
Daily small group support;
A 12-week program check-in and update;
A 6 month program check-in and update;
and all of the accountability and encouragement you can handle.
What is expected of you?
Daily commitment to checking-in with me;
Commitment to working out at least 5 days/week;
Showing up on time and ready for your personal training sessions with your camera on;
Keeping and sharing your food and exercise journal;
Sharing your stats (weight, measurements, before/after photos) with me (they'll be kept completely and forever confidential in your client file);
Signing a liability waiver and completing a pre-exercise questionnaire;
Getting a written doctor's note to begin exercising (if needed);
No excuses. We'll work through and around any issues that arise (life happens!) but no excuses.
What's the cost?
Just your commitment, enthusiasm, and willingness to learn and be challenged.
You don't need to buy anything.
How can I apply?
It's easy! Just fill out the form below. I'll be selecting three people to work with on Tuesday, May 3rd. The 30 days will begin on Saturday, May 7th.
Questions?
Feel free to leave a comment below or email me personally at MamaExercises@gmail.com.
I hope you decide to enter and begin your fitness journey, as well!