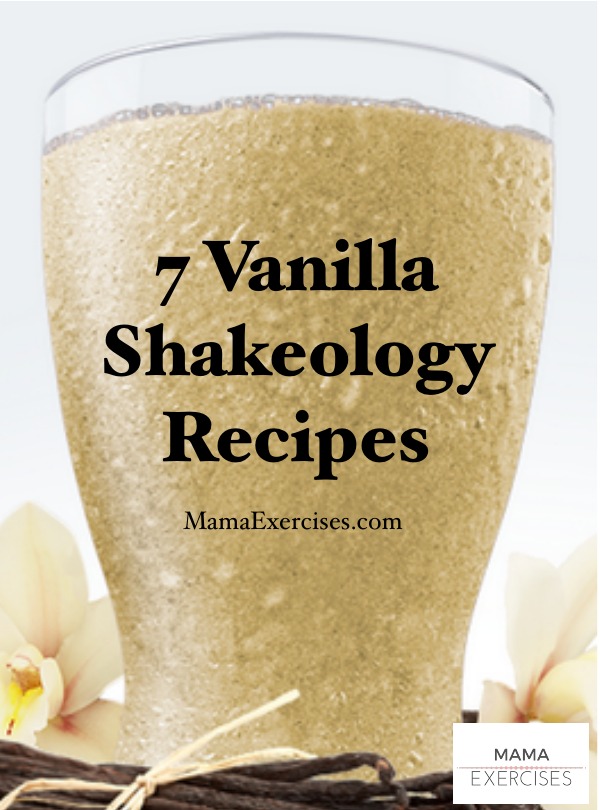 Although my heart was first stolen by Chocolate Shakeology, I have to admit that some days, I just want something different. On those days, it's just me and Vanilla Shakeology hanging out together after a workout. We're like BFFs after spending time with the 21 Day Fix (or PiYo, Brazilian Butt Lift, Hammer & Chisel, 21 Day Fix Extreme, 10-Minute Trainer….you get the idea). Vanilla is a great alternative to my usual Chocolate, because, to me, it feels a lot more versatile. It still has all of the benefits that I love about Shakeology, but some things you just don't want to add to chocolate so that's when I bring out the Vanilla. So, here are seven of my favorite Vanilla Shakeology recipes. Enjoy!
7 Vanilla Shakeology Recipes
Simply Cinnamon
This recipe is nothing fancy, but it's the very reason why I love mixing things up with Vanilla Shakeology. I simply add a teaspoon of vanilla extract (we make our own and it's fabulous) and a 1/2 teaspoon of cinnamon to the Vanilla Shakeology and 4-5 ice cubes in the blender and wind up with an easy, but refreshing shake.
Fresh Apple Delight
This really tastes like apple pie to me and is a family favorite. My kids love it! I peel and cut 1 apple up into chunks (it's easier on the blender that way) and add 1/2 teaspoon of cinnamon and almond milk to the Vanilla Shakeology. I've also made it with water and it's still delicious, but just not quite as creamy. Don't forget your ice cubes!
Coffee Queen
I've cut down on my coffee consumption, but it's still significant. In the afternoon, I like to take a cup of the cold coffee from the morning's pot and blend it with a scoop of Vanilla Shakeology, a 1/2 teaspoon of cocoa powder, and 4-5 ice cubes to make a "pick-me-up" shake.
Blueberry Bomb
Fresh blueberries are delicious, but frozen blueberries? They're like candy in our house. In the blender, add 4 ice cubes, a scoop of Vanilla Shakeology, and a purple container of frozen blueberries. Fill with water or almond milk (so good!) and blend away. It's delicious and one of my favorite summer shakes.
They Call It Snickerdoodle
The recipe for a Snickerdoodle shake has been floating around for a long time, but this is our slight variation. We use 1 scoop of Vanilla Shakeology, 1 tsp cinnamon, 1 tsp all natural peanut butter, 1 teaspoon agave nectar, and 1 tsp of vanilla extract. Everything goes together in the blender with 4-5 ice cubes and water, but you could definitely use almond milk if you prefer. It's like dessert in a glass.
Vanilla Mint Chip
The debate about what color mint chocolate chip ice cream is best will never end, but this vanilla mint chip shake is a close third. In your blender, add 5-6 ice cubes, a scoop of Vanilla Shakeology, a teaspoon of chocolate chips (I think Ghiardelli ones are the best), a 1/2 teaspoon of mint extract, and your choice of water or almond milk. Blend and pour for a delicious shake!
Berry-licious
Think berry smoothie when you envision this shake combo. Add a 1/2 c. frozen strawberries, 1/2 c. from blueberries, a teaspoon of honey, and water (or almond milk) to your Vanilla Shakeology. I love this one, because it knocks out some of the purple containers for the day and I always have a rough time getting those in.
While Chocolate Shakeology is still my go-to flavor, the Vanilla is refreshing and offers a lot more variety with the flavors my family enjoys. If you'd like more information about Shakeology, contact me! If you're just starting Shakeology, you might want to read these tips about what to expect when you first begin drinking it.
Enjoy!