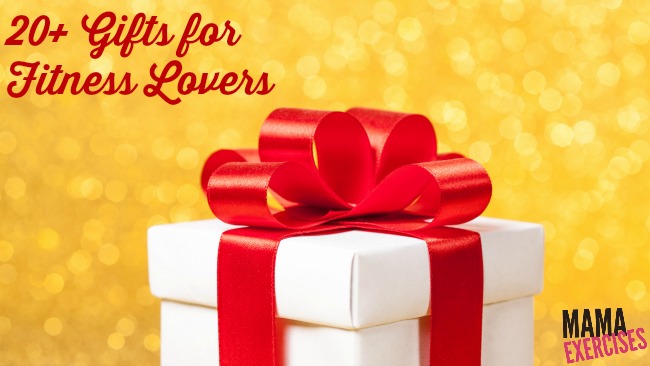 Trying to figure out what to get the fitness fanatic in your life for the holidays? It can be a challenge for sure! There are so many different options out there that narrowing it down to just the right gift isn't easy. Thankfully, the 20+ ideas below are sure winners that will land you in first place in the Great Gift Giving Race. Take a look!
20+ Gifts for Fitness Fanatics
Check out my five favorite water bottles before rushing to get one for your fitness lover!
A stability ball is a great gift for those who want to improve their core strength. The best part for you? They come deflated in a box so you don't have to figure out how to wrap a giant ball! Check out the size guide here before purchasing though to make sure you're getting the right size!
I know some people swear by the more advanced and snazzy pedometers, but I tend to go through them too quickly to invest in a $150 band. Instead, the Fitbit Zip is about $50 and with a band made specifically for it, you can have your own wristband style pedometer in no time flat.
Foam rolling is one of those things that hurts so good, but is soooo worth it. If your gift is going to someone who is a novice at foam rolling, go for a softer roller to start.
Help your fitness lover keep track of his or her workouts with a workout journal that gives them plenty of room to record their successes!
I'm a huge fan of resistance bands, because they're so incredibly portable. While there are many different ones out there, I like these the best. You really can't go wrong though if you choose a set that has a variety of resistances. Here's a quick guide that explains the colors of bands.
No, they're not really called super awesome fitness socks, but once you slip on a pair of these delightful socks, your feet will thank you.
I resisted getting wireless earbuds for a long time, but these little guys are perfect for lifting or while getting in a great cardio workout on the elliptical or treadmill. They make it so much easier than getting caught in your own cord (and strangling yourself).
Jump for joy – and a fabulous cardio workout! A new jump rope will make your fitness lover smile, because it's super portable and easy to use. Jump roping just makes you happy! Just be careful not to try it out around the Christmas tree…
A cute workout tank makes exercising so much more fun! Go with your gal or guy's style and get one that reflects his or her personality. Stay away from polyesters and go for breathable materials!
For your hardcore fitness fanatic, a heart rate monitor is a fabulous gift to help her track her heart rate for maximum fitness efficiency. Knowing what your heart rate is while exercising helps you make informed decisions about your exercise intensity and results, as well as provides information about the types of exercises you should include in your routines.
Keep your fitness enthusiast's ears toasty warm this winter when she's outside walking or running. Some headband ear warmers even come with built-in speakers so you can listen to your music or podcasts while exercising.
An iTunes gift card is the ideal multi-purpose gift, because there are so many songs and apps that are perfect for tracking fitness goals and motivating anyone who likes to exercise.
A Bosu Balance Ball is basically a half of a stability ball. Not only is it great for building balance and stability, it's also a ton of fun!
For any workout that requires you to be kneeling, a padded fitness mat is bliss for sore knees. Look for one that's durable and easy to wipe clean.
Even the most hardcore weight lifter or runner needs to stretch! A new yoga mat is perfect for stretching out those sore, tired muscles.
If your fitness enthusiast is also a gym goer, a new gym bag will bring a smile to her face. This one has lots of fun compartments!
Encourage your fitness enthusiast to drop his or her phone in a fitness armband that will keep their phone secure (and music playing!) while they're working out. Make sure that the one you get fits the phone your gift receiver has!
I know it seems totally 1980s, but some colorfully wrist sweatbands can make the difference between having a workout that leaves you feeling successful and one that leaves you feeling like a dripping, hot mess!
21. Jewelry
A necklace or bracelet advertising their love for fitness long after their workout is over is another fun gift option. Just don't expect that your fitness lover will be wearing it during their workout. Did you know that they even have silicone wedding bands that are good for those who want to wear a band to the gym, but don't want to wear their real wedding ring? It's a neat alternative for sure!
No matter what you get your fitness lover, a gift that shows that you recognize their passion for fitness is what will be a real winner. Is there a gift that you're excited to get your fitness lover this year?
Save