One thing you may not know about me is that I am a big advocate for students' rights – especially when it comes to dyslexia. How does that relate to the NASM-CPT and studying? Well, my oldest son has severe dyslexia and is planning on taking the exam in a couple of years. So, we've been talking a lot about studying for the NASM-CPT with dyslexia and how that might work.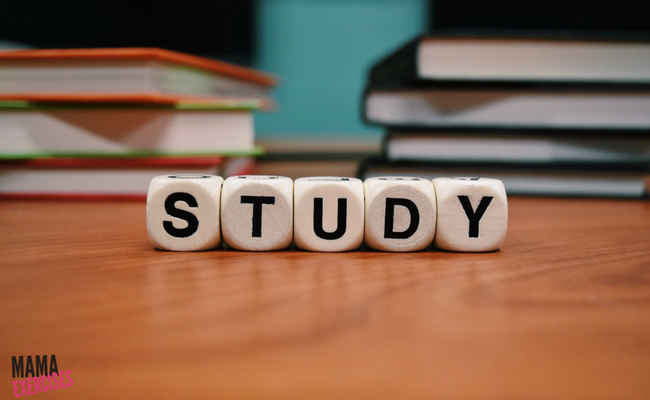 Affiliate links below; if you purchase from a link, I may receive a small commission.
Studying for the NASM-CPT with Dyslexia
What is Dyslexia?
Before we get into how to study with dyslexia, let's debunk some myths and find out exactly what dyslexia is. Dyslexia is "an unexpected difficulty in reading in an individual who has the intelligence to be a much better reader. While people with dyslexia are slow readers, they often, paradoxically, are very fast and creative thinkers with strong reasoning abilities" ("What Is Dyslexia?" Yale Dyslexia, dyslexia.yale.edu/dyslexia/what-is-dyslexia/).
In other words, people with dyslexia have trouble processing the written language. For those who are studying for the NASM-CPT with dyslexia, that means that it can be really challenging to process all of the information in the text just through reading.
For a much deeper understanding of dyslexia, I highly recommend the book Overcoming Dyslexia by Sally Shaywitz. It offers a great, scientific explanation of what dyslexia is and how it impacts those who have it.

5 Tips for Studying for the NASM CPT with Dyslexia
Tip 1: Watch the Videos
If NASM provides a video for the lesson or chapter, watch it. In fact, watch it a couple of times to get an idea of what they want you to learn. If you're not sure about something, look it up on YouTube! Seriously.
There are a ton of great science explainer videos that will walk you through everything from muscle function to cell biology. Even though I don't have dyslexia, I used them a lot to better understand the concepts since I didn't come from a science background.
Tip 2: Listen to Audio Lectures
I talked about Fitness Mentors' Audio Lectures in this post that detailed how I studied for the NASM-CPT exam, but it's going to be an absolute must-have for my son when he's studying.
One of the great things about the audio lectures is that they go through the book chapter by chapter and break down the most important things on the exam. I was able to follow along in the book, make notes, and go back and listen to the lectures over and over again as I referenced the text. It truly was the key to me passing the exam.
They also have a NASM-CPT course that I've heard great things about, so you might also want to check that out and see if it would be a good option for you.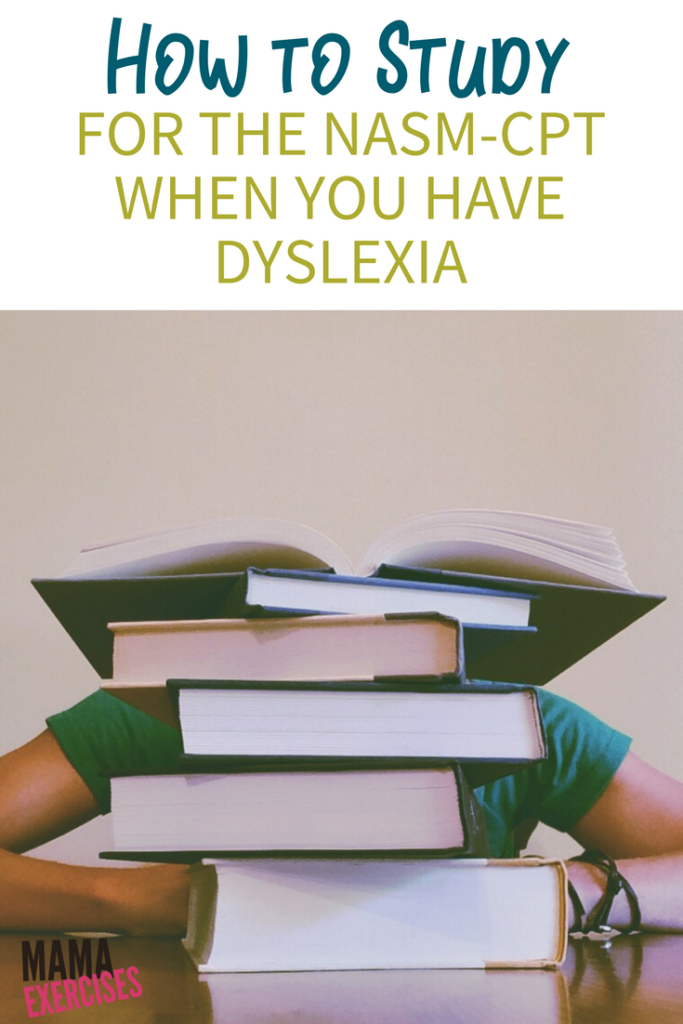 Tip 3: Do the Exercise Examples
Yep, get up and actually do the exercises and examples. If they're talking about how muscles contract, get up and make the muscles contract. If they're talking about proper squat position, do a proper squat and mentally note the way the muscles work together. The more hands on you can make your studying, the better it will be.
Tip 4: Use Technology
Don't be afraid or hesitant to invest in some study apps. The Pocket Prep NASM-CPT app was a huge help and gave me the opportunity to do some quick study sessions when I had a few extra minutes during the day. I also found it really useful to look at fitness apps that highlighted the muscles that were being worked during an exercise (and then get up and do the exercise, so that I could feel those muscles activate). Again, go for a multi-sensory approach when you're studying!
Tip 5: Don't Cram
For a lot of people with dyslexia, memory issues are a real thing. The brain has trouble processing and recalling large amounts of information in a short period of time.
When you're studying for the NASM-CPT, don't try to cram all of your studying in a few weeks before the test. Spread out your study sessions and spend a significant amount of time not only learning the facts, but doing the movements.
The trick is to make the information become part of your natural vocabulary and actions. Instead of having it be a separate thing to study for an exam, make it something you integrate into your daily life.
Understanding = Passing
The better you understand the information and the more you live it (vs. just studying it for a test), the better you'll do. The whole point of the NASM-CPT is to get trainers to understand the science and theory and practicalities of the information – not just memorize it. They want to make sure you can apply the information, so do that in your own life while you're learning.
Can you take and pass the NASM-CPT with dyslexia? Absolutely. You've got this!
Has this post been helpful in deciding whether or not to take the NASM-CPT? I hope it has! If you feel so inclined, I would love if you could mention me, Brandi Jordan, as your referrer when you order your program by phone – 1-800-460-6276. Your referral by phone will give me credit to earn more continuing ed. credits! THANK YOU!!
Save
Save
Save
Save
Save