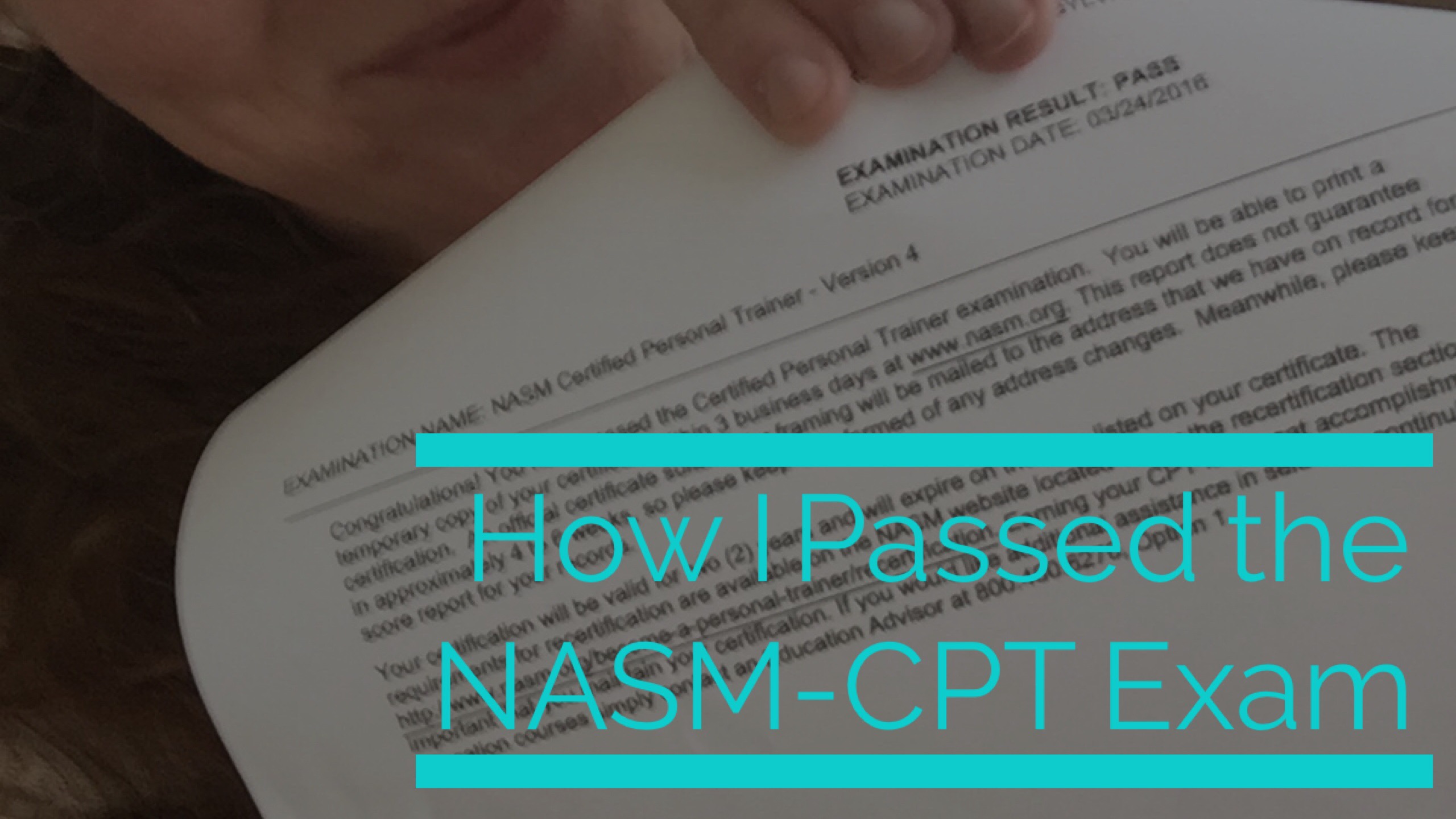 Well, it's been over two months since I passed my NASM Certified Personal Trainer's Exam and I am just as excited about having passed today as I was on March 24th. With no background in sports medicine, exercise physiology, or nutrition, I was worried about passing. BUT, I did it and you can too. Here's what worked for me and what I'd suggest doing if you're studying for the exam. If you have dyslexia, be sure to check out this post where I give tips for studying for the NASM-CPT when you have dyslexia too!
I Passed the NASM CPT Exam and You Can Too!
What I Bought from NASM
I have my degree in education and am a self-taught Social Media Manager for a large education company, so learning new things and being disciplined enough to study on my own comes naturally. I couldn't stomach the thought of paying for anything other than the basic package that NASM offered and hemmed and hawed about it for weeks before taking the plunge. It came with the textbook, online videos, flashcards, and the practice test. I understand now that they've added an additional component to what you get (with an additional price tag, of course), but that wasn't an option when I registered in late October 2015.



NASM provides a study suggestion guide that I followed as I went through the material. The video explanations from NASM, as well as the short practice quizzes at the end of each section were helpful, but I wished they were presented in a manner that was a bit more…non-NASM speak. The practice quizzes could have also been meatier than they were. I found all of the NASM material challenging to access from my phone, so I broke out my laptop for each lesson. I printed out and studied the flashcards that came with my bundle, as well.
Other Study Materials That I Used to Pass the NASM CPT Exam
YouTube
In addition to the text, I watched videos on YouTube about everything from Golgi tendon organs and muscle spindle fibers to under- and over-active muscles. Seeing the explanation after reading about it in the book was a huge help. Just search YouTube for the topics you're struggling with and there are sure to be video explanations.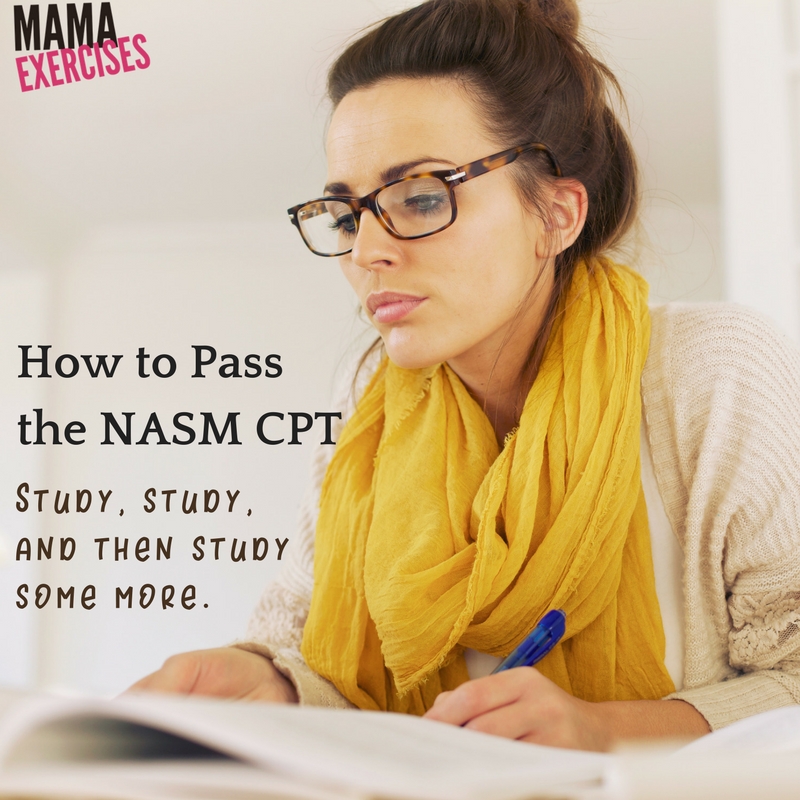 Affiliate links below.
Fitness Mentors
Since my background was not in exercise or sports medicine though, I still felt like I needed more of an explanation – preferably one that was explained in simpler, easy to understand terms. On Valentine's Day, with just a little over a month before my exam, I ended up ordering the audio lectures and study guide from Fitness Mentors. They are amazing!
The audio lectures follow the book and actually walk you through the material. There are also tips for common trends of test questions and the things that NASM wants examinees to focus on while studying. I listened to the lectures while reading along in the book, but also while walking on the treadmill, driving in the car, and in any free moments I had by logging in to the site from my phone. They were absolutely invaluable and I'm confident that they played a huge part in passing the exam, but, more importantly, in understanding the material.
The Fitness Mentors study guide was also a great help. It challenged me to really think about the answers and the reasoning behind things vs. simply memorizing the material. If I had to pick though between the audio lectures and the study guide, the audio lectures would definitely win.
They also have a new NASM Online Course with a Pass Guarantee that would have been fabulous when I was studying for my exam!
iPhone Apps for the NASM-CPT
I had a few key apps that I used daily for studying too. The NASM-CPT by PocketPrep was the most helpful and actually had questions in it that appeared on the test. I did multiple practice exams every day from October through the morning of the exam itself. It's definitely worth the cost.
The iMuscle2 and Essential Anatomy apps were also great for studying muscles and bones. iMuscle2 is fascinating in that you can actually see the muscles that are worked with each exercise. Sobotta Atlas was also helpful with anatomy.
Time Spent Studying for the NASM-CPT
Anticipate needing a lot of study time. A lot. From November through the holidays, I studied about 3-4 hours each week in small sessions. By January, I realized that I needed to step up my study game, so I devoted about 8 hours every weekend and 5 hours during the week to studying. I studied that way through the morning of my exam on March 24th. The more time you spend studying, the more comfortable you're going to be with the material and, ultimately, with helping your clients. Don't skimp on studying time.
The Day of the NASM-CPT Exam
The day of the exam, I woke up early and spent about 2 hours going through the NASM-CPT PocketPrep app doing practice exam after practice exam. I was nervous, but felt well prepared. When I arrived for my 9am test, I discovered that for the CPT there is no paper or pencil given for the exam. I was, however, given a set of ear plugs and wishes good luck by the testing center staff.
I finished my exam in about 80 minutes. I took my time, flagged questions I didn't immediately know the answers to, and then double-checked my answers at the end. The relief of seeing "Passed" pop up on the screen after the testing proctor submitted the exam was huge. The exam is not easy, but it's also not impossible if you study hard and focus on understanding the material vs. memorizing it.
And that's it, folks. That's how I studied and passed my NASM-CPT exam. With CEUs and my NASM Youth Specialist Certification now under my belt, as well, I can confidently say that studying for and passing the CPT certification exam was well worth it.
Questions about any of the things I used or how I studied? Feel free to reach out via email or send me a message on Instagram. I'm happy to help!
Save
Save
Save