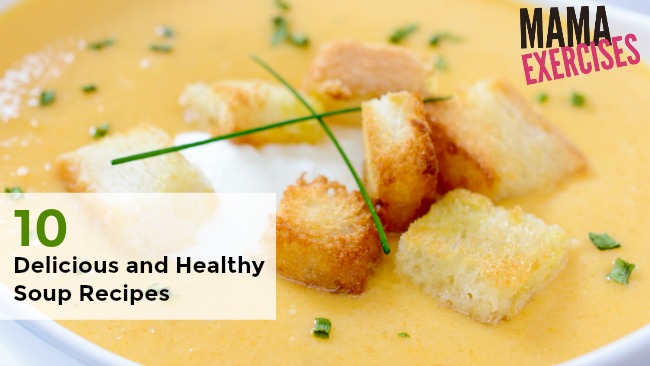 When the weather starts to get chilly, the stock pot comes out of the cupboard and soup can be found simmering on the stove at least twice a week. There's just something comforting about a warm soup on a cold night! If you're looking for a new soup recipe to add to your collection this fall and winter, check out the options below. They're scrumptious and satisfying!
Soup Recipes for Cold Winter Nights
I'm a sucker for French Onion Soup and this recipe is ultra-tasty!
In addition to loving kale, my kids also love broccoli. My husband not so much. So, I usually put this on in the early morning and the kids and I have it for lunch during our homeschool day.
I like getting turkeys a couple of times during the winter, because I can get soooo many meals out of one bird. This post-Thanksgiving soup of yumminess is just one example. For non-soup ideas, check out these recipes.
The slow cooker is my cooking BFF – especially when it comes to soups and stews. Chili is perfect for the slow cooker and those cold days, because it's inexpensive to make and terrifically filling. With two teenage boys, those are important things for a meal to be!
If you're looking for a hearty soup that cooks in the slow cooker and makes your house smell divine, here's your recipe! This delicious beef stew results in melt-in-your-mouth beef and flavors that explode on your tongue. It's scrumptious!
I love stuffed peppers in their regular form, but this stuffed pepper soup-like dish is super delicious. It's not soup in it's traditional sense, but it's yummy nonetheless.
This is a childhood favorite and was what my mom would feed us before we went out Trick of Treating on Halloween. It's super simple and very filling!
This is another slow-cooker recipe that makes the house smell yummy throughout the day. It's relatively inexpensive and makes great use of any leftover ham that you have from Christmas dinner.
Anything I can do to get my kids to eat more veggies is a bonus for me! This slow-cooker recipe has a bit of a kick, but not so much that the kids don't like it. In fact, my kids gobble it up!
I'm not a big fan of seafood, but my boys and husband love it. This soup has a nice bite to it and is packed with great nutrients.
This fall and winter make soup your go-to healthy meal option – especially with a slow cooker on hand! If you have a great soup recipe that you'd like to share, be sure to leave it in the comments below!
Like these ideas? Pin them for later!