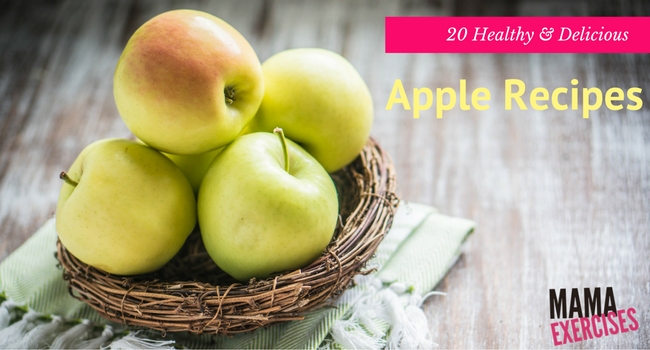 Hello, Fall! Oh, how I've missed you! That's right, friends, Autumn is in full swing and that can only mean one thing – a trip to the apple orchard. A very expensive trip to the apple orchard. You see, we don't just come home with a bag of apples or even a little bucket of apples…we come home with about 60 pounds of apples. SIXTY POUNDS. I love apples and all, but my husband? He's like an apple fanatic. And that's awesome, because apples are incredibly good for you, but it's also SIXTY POUNDS of apples.
Since I'm not much of a cook or baker despite my efforts to prove myself wrong, I leave it to my sons to make use of the apples before they go bad. The recipes below are some of the ones that I encourage them to make, because they're relatively healthy and completely delicious. From apple slow cooker chicken to apple energy bites to apple salads, there's a bit of something for everyone in this applicious collection. So, if you're inundated with apples this fall too, here's your answer to delicious and healthy apple recipe prayers! Enjoy!
Must-Try Healthy Apple Recipes
2. Creamy Spiced Apple Pecan Chicken
5. Cheesy Eggplant Apple Quesadillas
6. Creamy Broccoli Apple Salad Recipe
7. Healthy Apple Carrot Oatmeal Muffins
10. Homemade Applesauce and Yogurt Parfaits
11. Cauliflower Apple Fritters
12. Apple Cinnamon Energy Bites
13. Whole Wheat Chai Spiced Apple Galette
15. Welcome Fall Harvest Salad
17. Slow Cooker Apple Cider Pulled Chicken Recipe
18. Cranberry Apple Oatmeal Bread
19. Apple Sausage Breakfast Bake
20. Apple Pie Granola Bar Bites
Bonus Recipe! You have to try this Slow Cooker Apple Butter Recipe from my cousin Aimee! It's to.die.for!
Which ones will you be trying? Or do you have a favorite apple recipe that you'd recommend? I'd love to know what you suggest…after all, did I mention we end up with about SIXTY POUNDS of apples?! Help!
Save
Save