I love the 21 Day Fix and these 21 Day Fix Approved Snacks and Meals make it even easier to stick to the program!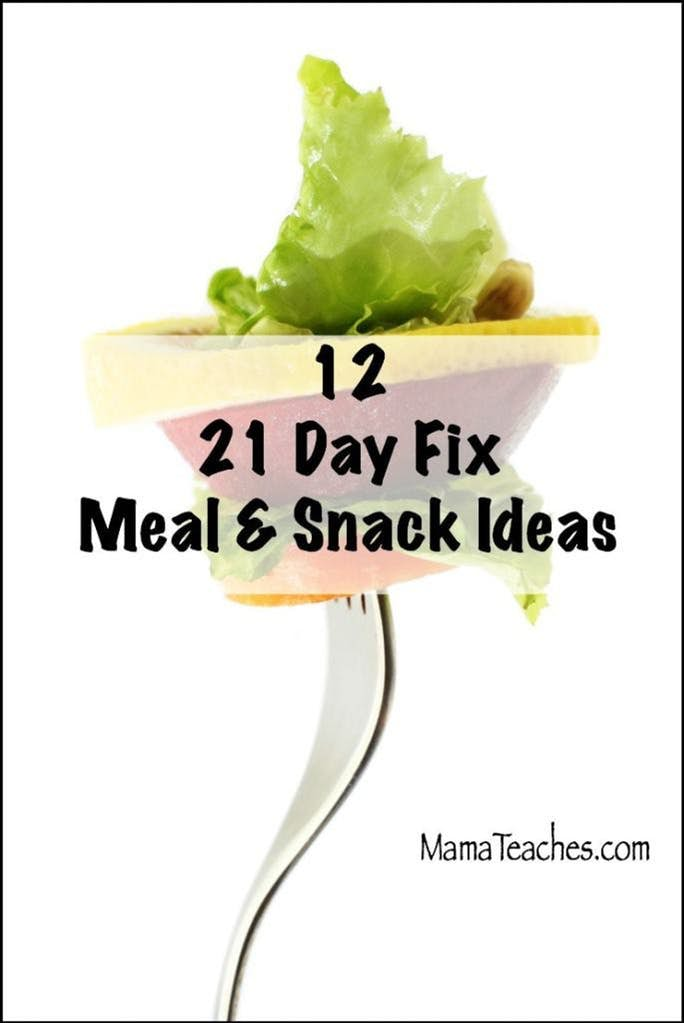 Seriously love it. It's been life changing for me these last seven weeks and I couldn't be happier with the results. Almost 13 pounds down and muscles making an appearance for the first time in…well, I'm not sure I've ever had abs like I do now! I still have a long way to go, but it's sustainable progress and a lifestyle change vs. a diet. And that's what I've been needing for so very long.
In my Mama Exercises Challenge Group, we were talking about being stuck in a food rut the other day and having trouble filling up containers. It doesn't seem like it would be hard, but you know, sometimes it really is. So, I've gathered 12 of my favorite 21 Day Fix "approved" meals and snacks to help inspire you. Let's leave no container left behind!
12 – 21 Day Fix "Approved" Recipes & Snack Ideas
BREAKFAST
Shakeology – Of course, right? I admit that I was a big doubter of Shakeology and shakes in general. My husband has purchased a plethora of shake powders in the past and I've always had a hard time choking them down. But Shakeology? I could drink it all day, every day. No gritty texture, no disgusting after taste, just pure superfood yumminess! My favorite is Chocolate Shakeology with ½ of a banana, a teaspoon of all natural peanut butter, veggie cubes or 1-2 greens of mixed kale and spinach, and water. Blend it up in the Nutribullet and you're good to go.
(1 red, 1 purple, 1-2 greens, 1 teaspoon)
You might also like these Chocolate Shakeology and Vanilla Shakeology recipes!
Yogurt Yumminess – Plain Greek yogurt takes a couple of tries to get used to, but with a teaspoon of organic honey, a teaspoon of all natural peanut butter, and ½ of a banana it's much easier.
(1 red, 1 purple, 2 teaspoons)
Fiesta Omelet – I toss a green container mixed with red peppers, green peppers, and onions in a skillet that I've sprayed with olive or coconut oil before scrambling up two eggs. I add half of a purple of all natural spicy salsa (not the canned variety) slightly drained to the top when it's plated for an extra kick. It's also a great way to make sure you get your water in, because it's spicy!
(1 red, 1 green, ½ purple, 1 orange)
SNACKS
Carrots and Hummus – Half of a blue container of hummus and 10 carrot sticks doesn't sound like a lot, but it's actually quite filling. If I'm still hungry afterwards, I have another 5 carrot sticks.
(1 green, ½ blue)
Frozen Blueberries – Spread your fresh blueberries out on a sheet of wax paper and freeze them for a few hours. Then measure them out in your purple container and bag them in single serving sizes before putting them back in the freezer. Frozen blueberries are delicious and it's like having a bit of dessert! The best part? They're in the top 1/3 of the purple food list!
(1 purple)
Yogurt and Fruit – Sometimes, I just want something sweet. So, a red of plain yogurt, a teaspoon of organic honey, and a purple of sweet strawberries and blueberries makes for a delicious snack.
(1 red, 1 purple)
PB, Banana, Waffle Sandwich – The day I saw that waffles were on the 21 Day Fix list I knew this was something I could stick with forever. To make a waffle sandwich, toast your whole grain waffle and then cut it in half. Spread a teaspoon (or two!) of natural peanut butter on and slice up half of a banana to place on top. Sprinkle some cinnamon over the banana and top it with the other half of the waffle. You'll have a quick, easy, and Fix approved snack in no time!
(1 yellow, 1 purple, 2 teaspoons)
LUNCH
Tuna, Crackers, and Carrots – I've shied away from tuna over the last few years, because it seemed that no matter which brand I bought, it was disgustingly fishy smelling and tasting. Since I'm not naturally a big fish eater, I may be hyper-sensitive about it. My mother-in-law recently introduced me to Wild Planet tuna and oh my gosh, it's so good! In fact, when I was traveling for business last week, I brought two of the 3oz packets with me and ate them straight from the container. Yes, both packets in the same meal. Don't judge; it was only 2 reds and I was hungry! I don't typically add mayo to my tuna, so that's not an issue for me. I did have 10 carrot sticks and 8 small whole-grain crackers with it to balance out my meal. Seriously, it's delicious tuna!
(1-2 reds, 1 green, 1 yellow)
Turkey Sandwich & Fruit – If you haven't heard of Sandwich Thins yet, wait to have your mind blown. Each sandwich thin equals one yellow which means that you can have a top and a bottom to your sandwich without sacrificing another yellow! It's like Christmas! So, I toast my Sandwich Thin and squeeze on some mustard before layering a ½ green with romaine lettuce and ½ green with sliced tomatoes onto the bottom piece. Then I layer on 3-4 slices of roasted turkey breast slices (I like the Harvestland brand that I get from the Costco deli) and sometimes a half slice of provolone before topping it with the other half of the Sandwich Thin. I have a purple container of grapes on the side to satisfy my crunch.
(1 yellow, 1 green, 1 red, ½ blue, 1 purple)
Chicken Salad – Layer on the veggie goodness with a hearty chicken salad. A green of chopped romaine, a green of a mix of diced peppers, shredded carrots, and chopped broccoli, a red of cooked chicken, half of a blue of feta cheese, and an orange of the 21 Day Fix salad dressing (recipes are in your 21 Day Fix booklet). Super yummy and quick!
(2 greens, 1 red, ½ blue, 1 orange)
DINNER
Slow Cooker Chicken, Brussels Sprouts, and Mashed Sweet Potatoes – We make a very simple slow cooker chicken that's both versatile and inexpensive. Simply place a roaster chicken in the slow cooker on low, sprinkle on sea salt, pepper, and minced garlic and let it cook on low for 6 hours or until done. Cut chicken off the bone to fill a red container. Make some roasted Brussels sprouts to go with it by washing and cutting off the ends of a dozen brussels sprouts. Peel off the outer leaf and then cut them in half. Place them in a large bowl and spray lightly with olive oil. Put in 1 teaspoon of sea salt, ½ teaspoon of pepper, and 2 teaspoons of Mrs. Dash Original Seasoning. Mix to coat the brussels sprouts. Spray a foil-lined baking sheet with olive oil and dump the coated sprouts onto the tray. Broil for 7-10 minutes. Make a sweet potato to go with the meal and mash it up with a teaspoon of coconut oil and some cinnamon – yum!
(1 red, 1 green, 1 yellow, 2 teaspoons)
Turkey Meatballs and Spaghetti Squash – If you haven't tried the turkey meatball recipe from the 21 Day Fix Extreme, you have to! It's absolutely delicious! Here's a recipe for it, but you can also check your Extreme booklet if you have it. It's truly one of our favorites. Yum! Serve it with a side of spaghetti squash "noodles" for a perfect meal.
(1.5 red, 1 green, 1/2 blue, 2 teaspoons)
What are some of your favorite 21 Day Fix approved recipes? I'd love to hear about them!