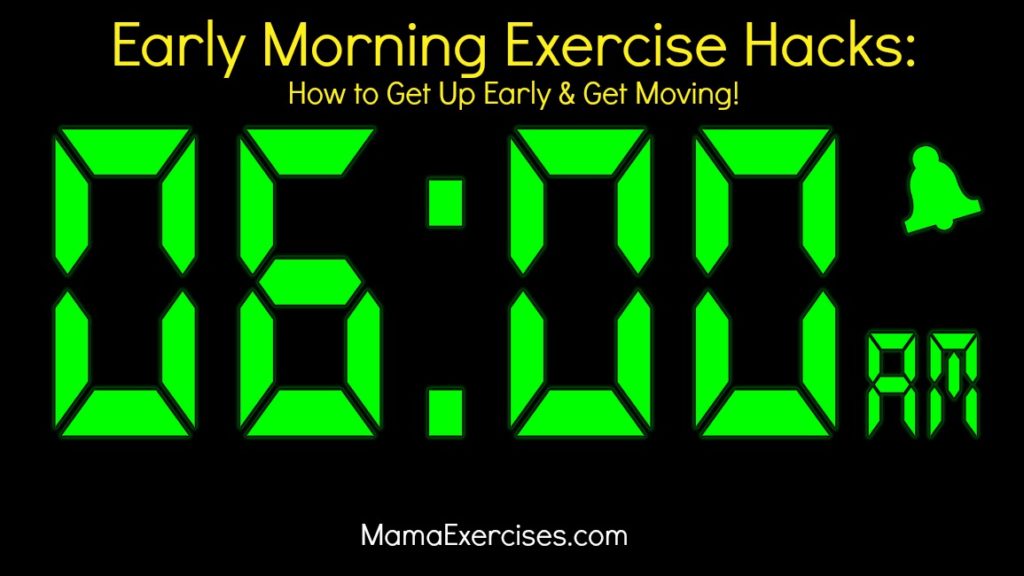 Some people are not naturally morning people. Thankfully, I'm perfectly content getting up at 4am these days, but that's not always been the case. When I realized that, for me, the morning was the most effective time for exercising, I knew I had to change my sleeping-in-until-7am ways. If you want to work out in the morning, but can't seem to make it work, here are the three early morning exercise hacks that helped me change my routine and, ultimately, my health.
How to Exercise in the Morning
1. Prep Your Workout Gear and Routine the Night Before
The devil is in the details when it comes to early morning exercise. That means that prepping the night before is crucial. Figure out your workout routine for the next day before you go to bed. Will you be doing a cardio DVD? Or is it leg day at the gym? Do you know which exercises you'll be doing, as well as how many reps and sets are on tap? You need to know and you need to write it down. Jot it on a sticky note, your phone's note app, or in your [easyazon_link identifier="9935907465″ locale="US" tag="mamaexercises-20″]exercise journal[/easyazon_link].
Once you get the routine figured out, go set out your workout gear. Shorts or pants, tank or tee, shoes and socks, bra and undies, and even your ponytail holder. Seriously. The more detailed you are, the less excuses you'll make. Since I get up so early, I put all of my exercise gear in the bathroom, so that I can get changed in there in the morning. Put yours wherever you'll be getting ready. If you get in bed without putting out your gear, get up and go do it. Stop making excuses.
2. Do What You Enjoy
When you're prepping your routine for the next day, if you're sitting there dreading the things you have on your list, you're going to have a really hard time getting up in the morning. One of the most important things you can do to establish an early morning routine (and not hate getting up before the sun!) is to do what you enjoy.
If you're not a runner, don't put "Running" down for your early morning cardio. If you really dislike the ab routine you've been doing, switch it up with an ab routine that you do like. Set yourself up for success by choosing things that you don't despise doing. Now, obviously, not all exercises are going to be your favorite, but if you have a routine filled with things you don't enjoy, you're going to have a difficult time motivating yourself not to hit snooze in the morning.
3. 10 Minutes to Success
No, sorry, that doesn't mean a 10 minute workout is all that you need to get the body and health you're after. Ten minutes to success means that you can begin training your body to wake up earlier by setting your alarm for ten minutes before you'd normally get out of bed. But you can't hit snooze for 10 minutes…nice try.
If you normally wake up at 7am, start by setting your alarm for 6:50 for two days. On the third day and fourth days, set it for 6:40. Have it go off at 6:30 on days five and six. By day seven, you're going to be getting up 40 minutes earlier at 6:20 without really feeling the effects. If your clothes and equipment are ready and your routine is planned out, 40 minutes is plenty of time to get in your morning workout before you'd even have thought about getting up a week ago!
For those of you whose Achilles heel is that snooze button, put your phone across the room and set the alarm sound extra high. It will help you catapult out of bed to shut it off and you can even pretend that you just did a bit of cardio. Find your excuses and shut them down one by one.
Remember, it takes about an average of 66 days to form a habit, so stay strong and keep focused on your goal of an early morning workout. Even if you're used to sleeping in, you can do it if you don't allow yourself to make excuses about why you can't. You might even find that on your off days, you're still waking up early to enjoy the sunrise. You can do this!
Save
Save