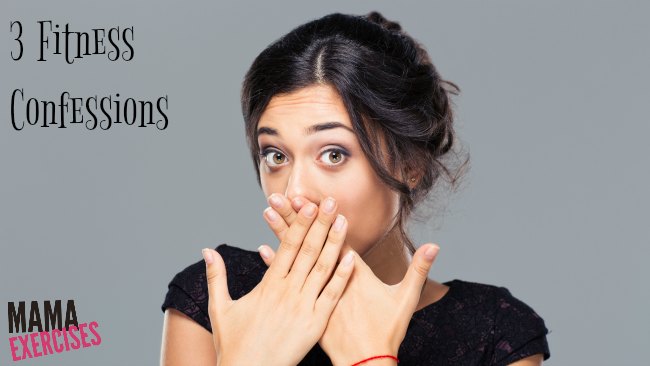 I often find that people think that if you love fitness, that you have to love all of fitness. After all, if you love Pilates you must love to run or do push-ups too, right? Fitness is fitness and exercise is exercise. Ah, yes, well, that's not true at all. In fact, even though I am a NASM Certified Personal Trainer and Youth Exercise Specialist, there's a lot I don't particularly care for when it comes to exercise. Some of it has to do with my own health history (hello, bad knees) and some of it just has to do with personal preference. So, to prove that you're not alone in your fitness struggles, here are my three fitness confessions in all of their ugly glory.
My 3 Fitness Confessions
1. I hate push-ups.
I know hate is a strong word, but honestly, I despise them. If I never had to do another push-up again in my life it would be too soon. I'm also not good at them. Modified I can do, but full-on, on the floor push-ups and I just don't get along. And you know what? I practice them and keep on trying, but I don't beat myself up over not liking or being perfect at them.
2. I originally became a trainer to hold myself accountable.
Have trouble with accountability? There's nothing that holds you more accountable to exercising and fitness than becoming a personal trainer. I certainly won't guide anyone toward doing something that I won't do myself (hence why I still practice those dreaded push-ups). As I got into the science of exercise (which I find absolutely fascinating, by the way!), I became even more intrigued. I've always wanted to help others with fitness, so that was a given, but becoming a trainer myself brought that accountability and the ability to help others in a whole new level. So, if you want the ultimate accountability to yourself, become a trainer. 😉
3. I look like a hot mess when exercising.
You know those people who can sweat and still look amazing after working out? I am not one of those people. One of the reasons that I really prefer to workout at home is because I am a hot mess during and after exercise. And, quite frankly, I love not having to worry about how I look. I recently saw a video of a new gym opening up in our town and it looks gorgeous, but…there were like 50 treadmills and a bazillion weights. Dude….that is not a place you want to go and look like a hot mess, because you might see some of those people outside of the gym. Vanity. It's a killer to exercise motivation.
So, there you have it. Even fitness professionals don't like aspects of fitness and exercise. So, if you're worried that you're alone in your fitness likes and dislikes, don't worry. Sometimes it just takes someone sharing their fitness confessions to make you feel a little less alone.
Happy exercising, friends!
Save