These 21 Day Fix recipe ideas are delicious and nutritious!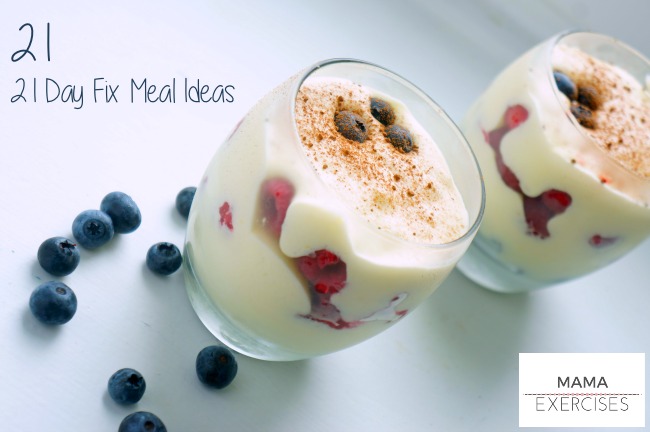 I know it sounds corny, but the 21 Day Fix changed the way I eat and think about food. It's also had a huge influence on the way my family relates to meals, as well. I think of it as a stepping stone for better nutrition and more conscious eating. While I don't carry my containers around, I do love to find 21 Day Fix approved recipes that we can work into the meal plan for the week. Since I'm not the best cook (sadly, it's true), I pass the food prep responsibilities to my 12 year old son most nights, because he loves to cook and bake. For Christmas, he wanted cookbooks, a huge pot to cook spaghetti sauce in, and an apron. No joke. He takes his cooking seriously. Whether you're the chef in your house or you need to find some simple recipes for someone who is, these 21 are a great place to get started. Bon appetit!
21 Delicious 21 Day Fix Recipe Ideas
21 Day Fix Breakfast Recipe Ideas
1. Cinnamon Apple Steel Cut Oatmeal
A yellow of healthy steel cut oats with a purple of diced apple and a sprinkle of cinnamon makes for a delicious breakfast. If you need a tad more sweetness, add a 1/2 tsp of honey or agave nectar.
2. Peanut Butter Greek Yogurt
Plain Greek yogurt definitely takes some getting used to, but with a teaspoon of natural peanut butter, 1/2 tsp of honey, and some homemade granola (optional), it definitely makes it tasty.
3. Blueberry Oatmeal
There's something about blueberries and oatmeal that just go together like…peanut butter and jelly…except without the high fructose corn syrup and preservatives. Throw a cup of fresh (or frozen) blueberries into your container of plain oatmeal for a healthy and hearty breakfast.
4. Eggs and Asparagus
Eggs and asparagus?! Trust me on this one. Spray a skillet with [easyazon_link identifier="B00CPZPYLS" locale="US" tag="mamaexercises-20″]coconut oil[/easyazon_link] and sautee up some cut up asparagus before adding two eggs into the scramble. Season with a bit of sea salt and pepper and you have a great way to get in a vegetable and a protein in one quick meal. You could also add in peppers and onions for a truly veggie-filled mix!
5. Scrambled Eggs and Turkey Bacon
Two scrambled eggs and 2-3 pieces of turkey bacon pack a protein punch that will tide you over until mid-morning. Did you know you can also cook eggs in the microwave if you're pressed for time?
6. Fruity Waffle
A whole grain waffle toasted with a teaspoon of natural peanut butter and topped with a mix of cut up strawberries and sliced bananas makes for a quick and delicious breakfast. If you want to add a quick protein, pair it with a red container of cottage cheese.
7. All American Cottage Cheese
Cottage cheese is a great protein for your early morning munching. Add in some sweet blueberries and strawberries and you have a red, white, and blue dish that will fill you up.
8. Shakeology
Getting rid of nutrient deficiencies is the first step to making huge improvements in your help. Shakeology and a well-balanced diet can help with that. Try these chocolate and vanilla Shakeology recipes for a quick and easy breakfast.
9. Roasted Vegetable Egg Cups
This recipe is quick, easy, and gives you a healthy dose of vegetables and protein in one small muffin.
10. Banana Pancakes
Three simple ingredients and you too can have delicious banana pancakes! This recipe is too good not to try. Pro Tip: Make extra and freeze for quick morning meals.
21 Day Fix Lunch and Dinner Recipe Ideas
10. Lettuce Tacos
The key to this recipe is to prep ahead of time. Pack a red container of taco meat, a blue container of shredded cheese, a green of diced tomatoes, and 3-4 romaine lettuce leaves. Assemble your tacos using the lettuce as the shell and enjoy a delicious and filling lunchtime meal.
11. Mason Jar Salads
There are a ton of mason jar salad recipes out there and, other than the dressing in most of them, their veggie packed goodness is definitely 21 Day Fix approved. Instead of using a heavy dressing, try a light olive oil and balsamic vinegar mix. Not only is it healthier, but it's a delicious way to flavor your veggie packed jar of salad fixins.
12. Healthy Chicken Salad
Again, the key to this recipe is to prep ahead of time or use a pre-cooked [easyazon_link identifier="B00004RFQL" locale="US" tag="mamaexercises-20″]rotisserie[/easyazon_link] chicken to save time. Combine a red container of diced chicken breast with a 1/2 purple container of halved grapes, a 1/2 purple container of diced apples, a 1/4 green container of chopped celery, and a 1/4 to 1/2 container of plain Greek yogurt. Mix together with a dash of cinnamon and a 1/2 tsp of honey or agave nectar. Serve it on a [easyazon_link identifier="B003NTZ9LU" locale="US" tag="mamaexercises-20″]Sandwich Thin[/easyazon_link] or on a lettuce leaf.
13. Chicken Noodle Soup
Soup is always a delicious go-to meal and this recipe is no exception. With just a pinch of kick, this chicken noodle soup is sure to give you that comfort of home taste that will make any rainy, cold, dreary day better. Pro Tip: Cook it in the [easyazon_link identifier="B004P2NG0K" locale="US" tag="mamaexercises-20″]slow cooker[/easyazon_link] on Sunday and then package in containers for lunch throughout the week.
14. Veggie Wrap
Use a Flat Out to wrap up some lettuce, bell peppers, tomato slices, mushrooms, jalapenos, and your other favorite veggies for a quick and easy veggie wrap. Try adding a dollop of plain Greek yogurt seasoned with some dill and a pinch of sea salt to give it some protein and creaminess.
15. Chicken and Vegetable Rice Bowl
Place a yellow container of brown rice in a bowl and top with a red container of shredded or diced chicken and a green container of grilled or sauteed peppers, onions, and broccoli for a scrumptious lunch.
16. Turkey Chili
This easy slow cooker meal is another fix it and forget it recipe that's perfect for your busy family. Substitute traditional beef for ground turkey and leave out the corn if desired, but this is one you're sure to enjoy! Although the recipe shows how to make the chili in real time, by browning and draining the turkey, you can combine all of the ingredients in the slow cooker and put it on low for the 4-5 hours to cook through.
17. Broccoli Mac and Cheese
Forget those highly-processed, chemical laden boxes of mac and cheese and try this delicious alternative instead. This recipe combines just the right amount of cheesy goodness with the healthy benefits of broccoli. You can also throw in some diced chicken for an extra protein punch.
18. Slow Cooker Chicken, Sweet Potatoes, and Asparagus
This is, by far, one of my favorite meals, because it's so easy to make. Place a roaster chicken in the slow cooker in the morning, season with Mrs. Dash, and let it cook until dinner time. Cook some sweet potatoes in the oven before you start steaming the asparagus for a power-packed meal.
21 Day Fix Desert and Snack Recipes
19. Peanut Butter Banana Ice Cream
Freeze 4 bananas for about 4 hours. Place them in a blender with 4 Tablespoons of natural peanut butter and blend together. Serve immediately for a tasty and healthy desert (or snack!).
20. Chocolate Protein Balls
We love, love, love these little protein and power packed balls of peanut butter and chocolatey goodness. The recipe is super easy to follow! They flax and chia seeds definitely up the protein content!
21. Chocolate Chia Seed Pudding
Want a recipe that can be both a dessert and a snack and a breakfast? Here it is! This protein packed jar of deliciousness will satisfy your sweet tooth while also giving you the delicious nutrients your body needs.