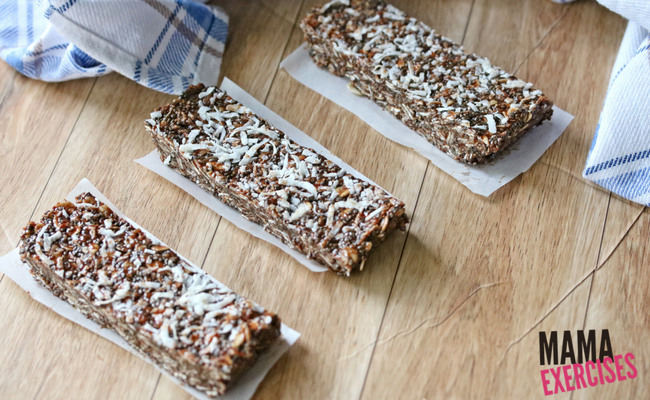 Breakfast isn't always pretty at my house. With two teens leaving before the sun is really awake and an almost 10 year-old who has first and then second breakfast before she heads off to school, quick, easy, breakfast protein bars are a necessity.
These Almond Chocolate Chia Breakfast Protein Bars are filled with healthy goodness and keep the kids full long enough to get to lunch or snack – whichever comes first. I love that these have just the right hint of sweetness without any of the processed sugar like so many of the store bought kinds.
I've included some notes in the recipe itself about some variations you can make and protein options. If you like Shakeology, by all means, use that in place of the protein powder. I've found that a vanilla or chocolate flavor protein powder helps enhance the flavor vs. plain ones.
Also, feel free to use all natural peanut butter and vanilla extract as switches for the almond butter and almond extract. Experiment with the flavors and see which works best for your family.
Give them a try and let me know how it goes! Enjoy!!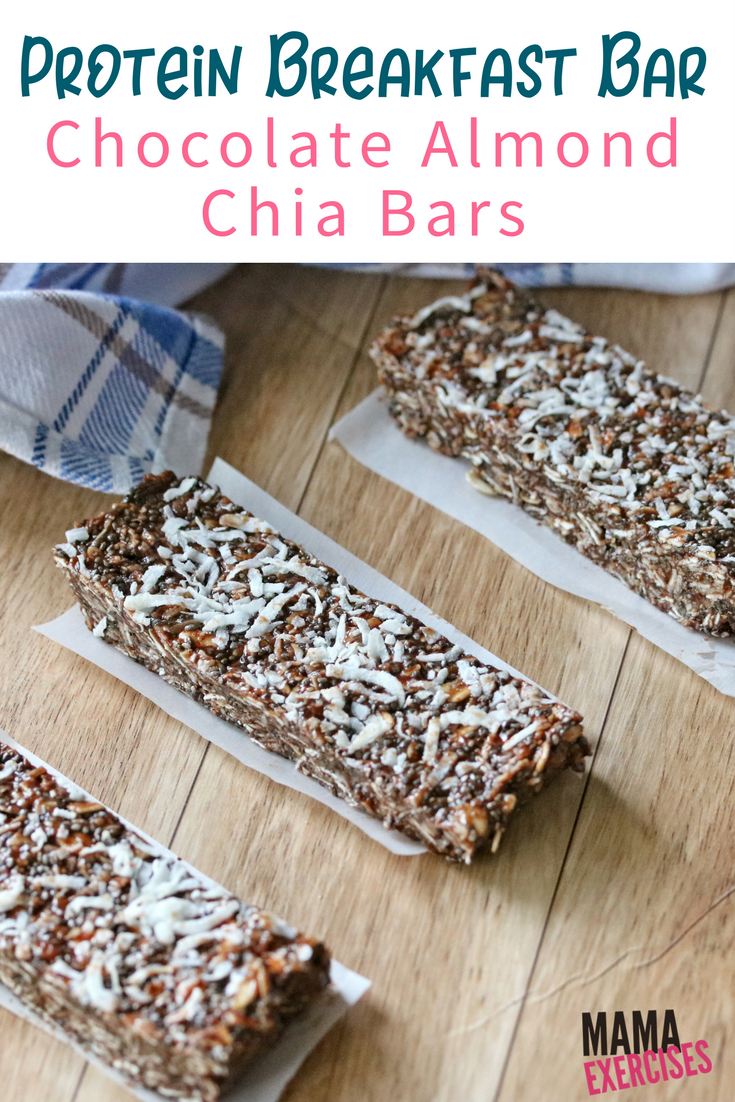 Affiliate link below. That means if you click, I may get a small portion of the sale to go buy more ingredients to make more yummy protein bars. My hungry teenage boys thank you, as do I. 😉
Almond Chocolate Chia Breakfast Protein Bars
Ingredients
1 cup oats

1/4 cup chocolate or vanilla protein powder (Shakeology would be fine to use here)
1/2 chia seeds

1/4 cup unsweetened, shredded coconut + two tablespoons for topping

3 tablespoons cocoa powder

1/2 cup almond butter

*

1/4 cup honey

1/2 teaspoon almond extract

*

1 tablespoon maple syrup

3 tablespoons almond milk
*To switch things up, you can also swap the almond butter for all natural peanut butter and the almond extract for vanilla extract.
Directions
In a large bowl mix together the oats, protein powder, chia seeds, coconut and cocoa powder.
In a smaller bowl, heat the honey and almond butter together in the microwave until smooth.
Mix in the maple syrup and almond extract until everything is combined.
Pour the wet ingredients into the dry ingredients and mix together. Once everything is coated, add in the almond milk and mix until sticky.This may take a few moments, so really mix it up well.
Line a 8″x4″ pan with parchment paper and place the mixture into the pan. Using a second piece of parchment paper, press the mixture down evenly into the pan.
Sprinkle the remaining coconut over the top and use a silicone spatula to press it into the mixture.
Freeze for 60 minutes. Remove from the freezer and cut into bars.

Store in the refrigerator in an air tight container.
Makes five bars.
Save