Learn how to modify a Beachbody workout so that it works for you!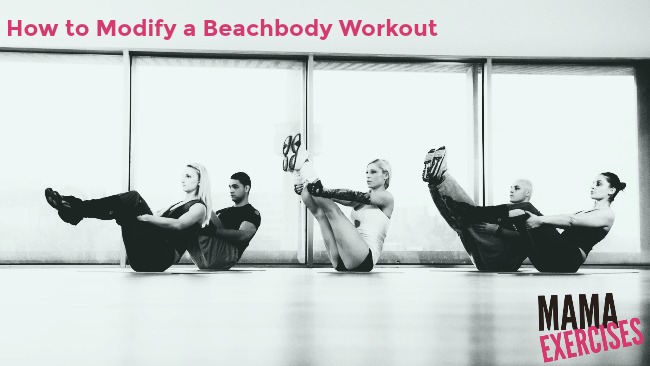 I've tried a lot of workout programs in my time. I can still remember wearing leg warmers and going with my mom to a women's gym when I was in middle school. And then there was that VHS tape with the 80s workout on that my best friend and I used to do in high school. I've been there, done that, and have the neon headbands to prove it.
It wasn't until about two years ago that I discovered Beachbody workouts though. I'd heard of P90 and Insanity, but honestly, they sounded waaaaaay out of my league. I'm not the kind of girl who looks for insanity in any area of my life – especially in my workouts! So, when I first heard about the 21 Day Fix, I thought, "Hmm…that doesn't sound too painful. I bet that would be a good place to jump into exercising again. I'm certainly not that out of shape!" Yes, well, you can read about my experience here. And, to this day, I still enjoy those workouts.
Well, since that first experience with Beachbody, I've delved into everything from Body Beast to PiYo to Hammer & Chisel to the Challenge Du Jour on Beachbody on Demand. Each workout has its own quirks and personality and each one is great fun (and a great workout!) in and of itself. As I was starting a new round of T-25 this morning, I realized that I never would have tried the program when I was newish to exercising, because I had no idea if I could modify it. So, I thought I'd share some secrets with you about modifying Beachbody workouts, so that you don't feel so intimidated.
Modifying Beachbody Workouts
1. Follow the Modifier
Did you know that in almost every Beachbody program, there's a modifier who alters the workouts for those who may not be at the more advanced pace? There is! In the 21 Day Fix, the modifier is Kat and she will be your BFF when you first start. The modifier is there to show you alternative, lower-impact moves that will help you build up to the more intense tempo of the workout. Follow them with pride!
2. Step, Don't Run or Jump
For those of us with knee issues, stick with stepping out the moves vs. running or jumping. In some workout programs, like the 21 Day Fix Extreme, there are a lot of plyometric exercises that involve jumping and power moves. You can still do the workouts, but swap the jumping for stepping.
3. Slow and Steady
You'll hear the trainers on the videos tell you to work at your pace. In other words, push yourself, but don't push yourself to the point of pain. You should never, ever, ever feel pain when working out. If you do, STOP. There's a big difference between sharp pain and the feel of your muscles working. It's tempting to want to try and jump right into the full workout with no accommodations, but remember that this is a marathon – not a sprint!
4. Move On
Maybe the best advice for modifying a Beachbody workout is this: If you don't like the program, find one you do like. That sounds a bit crazy, right? But the truth of the matter is that if you're trying to do a program that is really not right for your current limitations or fitness level, you could wind up injuring yourself or thinking that exercise is not for you at all. A little discouragement can lead to big, messed up thinking!
The 21 Day Fix Extreme was the program that taught me that early on. I was able to do the 21 Day Fix with only a few modifications, so I naturally thought the 21 Day Fix Extreme would be the next great thing for me. Now, don't get me wrong, the 21 Day Fix Extreme is a great program – just not for someone with knee issues. There are way too many moves that involved lunging and jumping that my poor knees just couldn't keep up with. Instead of thinking that maybe this just wasn't the right program for me, I started to doubt my fitness ability all together. When you're relatively new to something (and super excited about it!), setbacks can mess with your confidence.
Thankfully, instead of giving up, I switched programs and did a round of PiYo which is intense, but easier on my knees. Again, I followed the modifier in PiYo quite a bit when I first started, but who cares? By the end of the program, I was following Chalene a lot more than I was the modifier and I was stronger and more flexible to prove it.
In Conclusion…
Here's the thing about modifying…everyone does it. And it's a good thing to modify in the beginning. Don't be intimidated by the name of the workout. Don't not try something you'd really like to do, because you're worried. Give it a shot and know that there's usually a modifier in every workout. And, if there's not, you have permission to go at your own pace and do the moves with less intensity and with less impact than the people on the videos. After all, this is your fitness journey – not anyone else's.
Questions about Beachbody workouts or working out in general? Contact me!
You might also like: